7. EL MERCURIO
MANUGRAPH DGM ANNOUNCES SALES OF NEW EQUIPMENT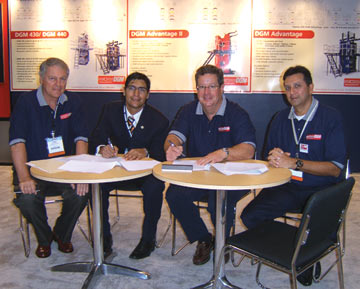 Elizabethville, PA - Manugraph DGM, Inc announces the sale of new press equipment to El Mercurio Cia. Ltd. of Cuenca, Ecuador.

The new Manugraph DGM press line consists of eight (8) DGM 430 units configured as two towers with one DGM 1035 folder, as well as one DGM 440 tower with UV to the nose of the folder. The DGM press will be replacing a News King press.

El Mercurio is the main newspaper in Cuenca, editing two dailies in the morning (broadsheet) and an evening tab for a total combined circulation of 60,000 copies per day.

The Manugraph DGM press is expected to be installed and running by October of 2007, in time for the 450th anniversary of the city of Cuenca in November. El Mercurio is planning to dedicate the new press to the city.

Located in Elizabethville, PA, Manugraph DGM, Inc. is a wholly owned subsidiary of Manugraph India Ltd.,

employing 205 persons within a 125,000 square foot manufacturing facility. Manugraph DGM Manufactures a complete line of single width offset presses including the DGM 430, DGM Advantage, DGM Advantage II (also a slip in replacement press for the DGM 850 or UrbaniteTM) DGM 440, DGM 440S, DGM 850, DGM 870 as well being the manufacturer of the Americolor tower, a 50" double width tower extension to the installed base. DGM also manufactures a full line of complimenting folders in the DGM 1035, DGM 1240, DGM 1050, DGM 1255, and the DGM 1270 jaw folder.