6. EL DEBATE MEXICO
Manugraph DGM Announces DGM 430 order to Mexico Publisher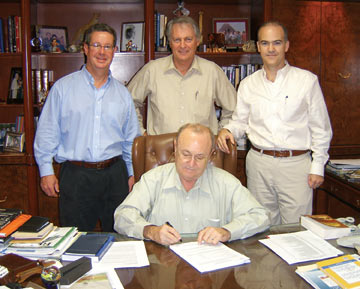 ELIZABETHVILLE, PA - Manugraph DGM (MDGM) announces the sale of DGM press equipment to El Debate in Mexico to two of their printing locations.

El Debate owns newspapers in Los Mochis, Mazatlan, and Culiacan. They edit five different editions daily, with a combined circulation of 145,000 copies per day.

With three plant locations, El Debate is the considered to be the largest group on the Pacific coast of Mexico.

The new facility in Culiacan will be one of the most modern of its kind in Latin America, housing both newspaper and commercial printing, and will be the second of El Debate's facilities to have UV print capabilities.

The first MDGM sale to El Debate's Los Mochis plant consists of one (1) DGM 430 four high tower, seven (7) floor units and three (3) stacked units. The new DGM 430 tower addition features a fan out correction system; spiral brush dampening; and a DGM ultrasonic web break detection system. Installation is to be completed sometime in April of 2008.

The new Culiacan El Debate plant under construction will house two (2) DGM 440UV four high towers and (1) DGM 1035 folder and quarter folder equipment.

The DGM 440UV press will feature footprint shaftless drive; pneumatics; fan out correction; spiral Brush dampening; 2nd level web-up platforming; DGM ultrasonic web break detection system; Perretta remote inking system; AWS oil cooling system; Prisco chilled water system package; QTI color-to-color, cut-off and register control; Jardis infeeds and Jardis splicers; and a Prime UV curing system, as well as in-line trimming and stacking systems.

The DGM 1035 folder features a 72 degree former with double parallel assembly; three-knife cross head perforator; quarter fold bucket phasing; perforator at nips and at RTF location; four tape quarter folder; quarter folder bucket phasing assembly; stitcher spacer section; MotterStitch stitcher; Air-cooler for former air; Support Products four head gluer system; four knife trimmer; and a stacker/bundler. Installation is expected to be started sometime in June of 2008, dependent upon completion of new building construction.

Located in Elizabethville, PA, Manugraph DGM, Inc. is a wholly owned subsidiary of Manugraph India Ltd., employing 205 persons within a 125,000 square foot manufacturing facility. Manugraph DGM manufactures a complete line of single width offset presses including the DGM 430, DGM Advantage, DGM Advantage II (also a slip in replacement press for the DGM 850 or UrbaniteTM) DGM 440, DGM 440S, DGM 850, and the DGM 870, as well being the manufacturer of the Americolor tower, a 50" double width tower extension to the installed base. Manugraph DGM also manufactures a full line of complementing folders in the DGM 1035, DGM 1240, DGM 1050, DGM 1255, and the DGM 1270 jaw folder.